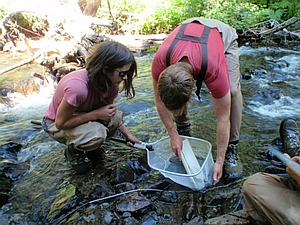 Project Manager, Crew Leader
Maggie has 6 years of experience conducting stream surveys and participating in various aquatic ecological research projects. As an undergraduate she studied Environmental Science at the University of Kansas. Simultaneously, she worked in the Kansas Biological Survey- Central Plains Center for Bio-assessment macroinvertebrate laboratory. After her graduation, she continued her work in stream ecology and in 2014 began leading field crews conducting stream surveys with Amnis Opes Institute. Maggie has been involved in EPA's National Rivers and Stream Assessment (NRSA) for 4 years, collecting data throughout the mid-western and western United States. Her work experience includes fish husbandry and both field and laboratory fish identification. She also has been involved in permitting and report writing for ecological research
Amnis Opes Institute Projects
Maggie has spent four summers conducting streams surveys using Department of Ecology protocols, three as crew member and one as crew leader and project manager. She has also led a field crew in implementing the U.S. EPA National Rivers and Streams Assessment.